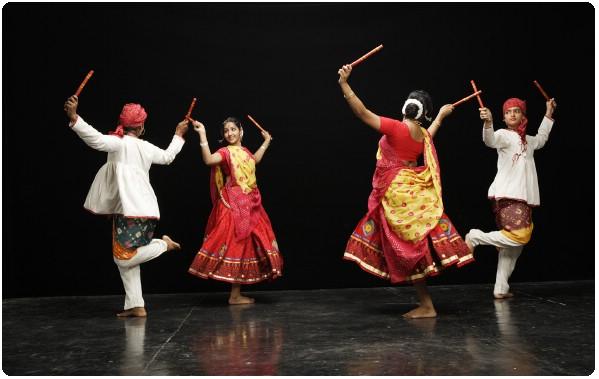 Dandiya Night 2016
October 2, 2016 @ 7:00 pm

-

October 11, 2016 @ 11:30 pm
http://www.etickets.sg/events/singapore/events/2015/cultural-event/dandiya-night-2015-24th-oct-2015/258″
Dandiya Night 2016  is a Indian cultural event a stick dance celebrated during the period of Navratri. a festival of Goddess Durga.This Year we celebrate Dandiya night on 8th OCT 2016 @ Singapore Swimming Club
The nine-day festival of Navratri in Hindu religion is dedicated to the nine manifestations of Goddess Durga. Navratri 2016 Chaitra Navratri festival will start from Friday, 8th April 2016 and will be celebrated till 16th April 2016 and Sharad Navratri dates for year 2016 are from October 1, 2016 to October 10, 2016.as per Hindu calendar. The most important Navratri in a year is the Sharadiya Navratra which begins on the first day of the bright half of Ashvin or Ashwayuja (September-October) as per traditional Hindu calendar.
Sharad Navratri 2016 Dates, Days and Goddess Information
Sharad Navratri 2016 Dates, Days and Goddess Information
Navratri Day 1 – October 1, 2016 (Saturday) – Pratipada, Ghatsthapana, Shailputri Puja
Day 2 – October 2, 2016 (Sunday) – Pratipada, Chandra Darshan, Shailputri Puja
Day 3 (Dwitiya) – October 3, 2016 (Monday) – Brahmacharini Puja
Day 4 (Tritiya) – October 4, 2016 (Tuesday) – Chandraghanta Puja
Day 5 (Chaturthi) – October 5, 2016 (Wednesday) – Kushmanda puja
Day 6 (Panchami) – October 6, 2016 (Thursday) – Skandamata Puja
Day 7 (Shashthi) – October 7, 2016 (Friday) – Katyayani Puja
Day 8 (Saptami) – October 8, 2016 (Saturday) – Kalaratri Puja
Day 9 (Mahashtmi) – October 9, 2016 (Sunday) – Mahagauri Puja, Durga Maha Ashtami Puja, Saraswati Puja
Day 10 (Navami) – October 10, 2016 (Monday) – Siddhidatri Pooja, Maha Navami, Ayudha Puja, Navami Homa
Day 11 (Dashami or Dussehra) – October 11, 2016 (Tuesday) – Navratri Parana, Durga Visarjan, Vijyadashmi (Dussehra)
October 11, 2016 – The tenth day is celebrated as Dasara or Vijaya Dashami in some regions in North and Western Parts of India. Vidyarambham in Kerala.
This event is designed for customers who would like to enjoy Dandiya with a traditional & non traditional mix.
Spend a evening with friends and family for a culturally rich event dandiya night 2015 celebrating navratri 2015 in Singapore
A Premium and Exclusive musical night just for you.Be part of  Dandiya Night 2015 Organised by GsvTec .
The Event features
Live Music and Authentic Dandiya Raas & Garba & foot Tapping DJ Music
Delicious Food & beverages from leading Restaurant
Get Your Early Bird Tickets for 8th Oct 2016 from www.etickets.sg or call 92203666
Terms & Conditions:
•Admission is subject to tickets produced at the entrance.
•Children above 5 Years Need a ticket for admission.
•Organisers can change the seating category & price depending on the need of event & venue
•Tickets Once Sold are non refundable and non negotiable.
•Organiser can change the event date, venue.
•No Food allowed in the Ball Room
•All Participants take complete responsibility of them self and their dependants .Organisers do not take responsibility for any claims for any incident caused directly or indirectly during the event..
•Organizers are not responsible for any kind of direct or indirect claims on account of the event.As a event participant you undertake any such risk of any unforeseen incident that may happen during the event. You are responsible for your family and yourself
Share This Story, Choose Your Platform!